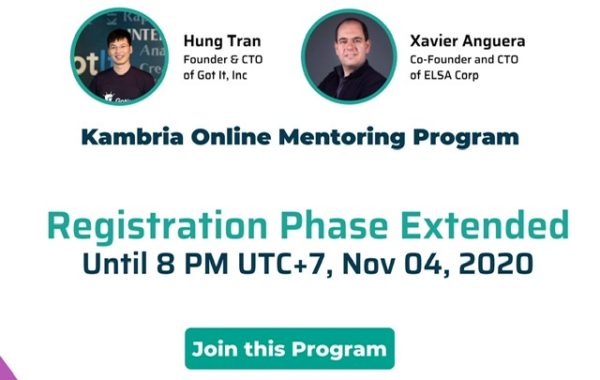 Re-post from Thuc Vu – Kambria founder
—
We are excited to bring you the new Kambria Online Mentoring Program (KOMP). This is a program to connect startups and teams working in advanced technology fields with experienced entrepreneurs and tech experts for one-on-one mentoring sessions.
In this program, team owners will use KAT token to bid for a one-hour online mentoring session with a mentor they want guidance from. The bidding method is not intended to maximize the highest bid, but to enhance the dedication of teams in the mentoring program.
Teams who join KOMP will have direct access to successful entrepreneurs with exceptional experience in the innovation process and product development. Mentors provide teams with a unique perspective and advice in the most critical phase of their development. Further your knowledge, expand your skills, and take advantage of their experience to position your team for the highest probability of success.
To kick-off this program, we have two very special mentors for the first batch: Dr. Hung Tran (Founder & CTO of Got It, Inc) and Dr. Xavier Anguera Miro (Co-Founder & CTO of ELSA Corp). Both are among the top AI experts in the world, with amazing hands-on knowledge and skillset, especially in conversational & speech AI. They are also experienced entrepreneurs that have built their respective startups from scratch to exponential growth.
#tech #robotics #ai #machinelearning #entrepreneurs #business #startup#technology
How to Apply:
1. Team owners need to register their team first.
2. Team owners invite team members to the project.
3. Complete your team and team member profiles
Register now: http://bit.ly/Kambria-Mentoring-Program
=======
Website được phát triển bới
Growthkey
- cộng đồng Growth Marketing/Growth Hacking đầu tiên tại Vietnam với hơn 2500 Growth Marketer hàng đầu
@Telegram +
Growthkey Startup 10X
+
Growthkey Blockchain 10X (Value Investing for Hodlers)
+ Press Release và guest post vui lòng liên hệ Telegram @ mbui_asia